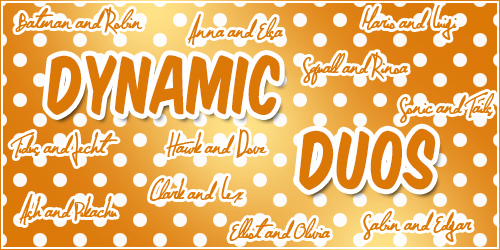 Duos are prevalent in almost every fandom. Imagine Tidus without Jecht, Han Solo without Princess Leia, Batman without Robin, Anna without Elsa. It's hard to, because these duos are more than typical relationships. The members of these duos don't just interact with each other; they define each other, and affect each other in such a way that if one wasn't there, the other might be completely different.
Hello and welcome to Amassment's Dynamic Duo Challenge!
With this challenge, we want to celebrate the bonds of family, friendship, and romantic partnership by creating companion shrines. You can participate in four different ways:
One
- You can create a "partner site" for a shrine you have already created. For instance, if you already have an Elsa site, you can make an Anna site for this challenge.
Two
– You can create two separate sites to each side of a duo. (If you attempt to do this, we recommend starting both out small so you don't overwhelm yourself. You can perhaps do two One Pagers.)
Three
– You can partner up with another Amassment member and each shrine a separate character in a duo.
Four
– You can create a relationship tribute that focuses on both characters.
Guidelines
Acceptable duos:
Family members (example: Elsa & Anna from Frozen)
Couples (example: Belle and the Beast from Beauty and the Beast)
Friends (example: Hawk and Dove from Hawk & Dove)
It is important that the duo you choose be
defining
. What we mean by that is one character and his or her story would be completely different without the other.
- You may join this challenge at any time during its run.
- Have at least five articles/essays on
each
of your sites. One-page shrines with at least five sections are welcome!
- If you're making two sites, you may submit both at once.
- Members may sign up in pairs--for instance, if you want to do an Elsa site for the challenge and your friend wants to do an Anna site, you can sign up together!
Signing Up
Sign up here!
Submitting Shrines
Once you finish your shrine or shrines:
- Create a new post in the Dynamic Duos forum.
- This time around, put the subjects of your shrines as the title of your post. Format it like: "Frozen: Anna and Elsa"
- Post the link to your shrine or shrines with an 88x31 button included. If you made a companion shrine for a shrine you already own, link your old shrine with an 88x31 button with your new one, as the shrines should be experienced together.
- If you are partnering with another member, or if you are making two shrines for this challenge, complete both shrines before plugging and plug them together.
Challenge Quick Info
Challenge period: November 7, 2015 -

June 30, 2016

extended to August 15, 2016
Events Staff contact for this challenge: Robin.
Hashtag for this event: #AMDynamicDuos
Sign-Up post: Here.